OCEANSIDE DAYS OF ART :
I had a really fun weekend.  I did my first street show!!!!!  Doing shows for me is like a candy lover going to a candy store.  I just LOVE meeting all those fascinating people who walk in and of my booth.  They have such interesting stories to share and it makes me feel good that they admire my work enough to add it to their homes.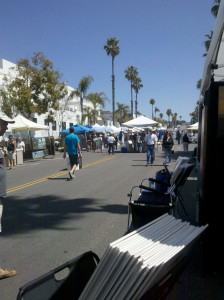 I love the fact that rock collectors can be ANY age or any nationality.  I can never predict if a person is a collector until I see that excited look in their eyes as they handle some of my stones or gaze at my paintings.  I can tell that they are excited to find someone who understands and shares their love of stones and simple, natural things.  There are far more rock lovers than I thought there were out there.  Most of them tell me stories about their rock collecting adventures.  I LOVE hearing about their collections and when they fell in love with stones.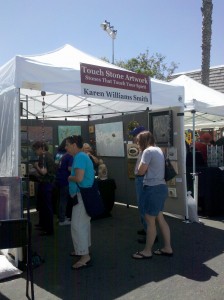 This weekend was the first time I set up my new booth for a show.  Good thing I kept my sense of humor while setting it up!  The booth looks professional and shows my work well … but it was not easy to set it up or take it down.  Thank goodness I had the help of my brother, Brad!!!!  I can't imagine trying to do it by myself.  What a challenge!  However, we were a pretty good team even if we did have the walls fall down a couple of times in the process.  (giggling here!)  I would say we both survived the ordeal and it was fun to share the process with my brother.  Thanks BRAD!!!! I don't know what I would have done without you!!!!!!
Oceanside Days of Art was a Saturday-Sunday show.   It wasn't huge …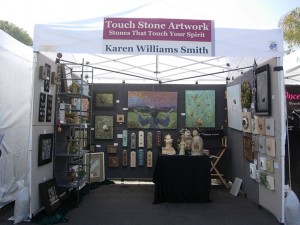 just few city blocks …  but it had a nice variety of quality, professional artists on display.  I enjoyed the process very much.  It felt good sharing my talents in my city for a change.  I have shown artwork in many places but this was the first time in a city I call home.  That was exciting for me!