I just love to look at a stream-bed.  All rocks are so much prettier under water; all the colors are so bright.  I have always marveled at Mother Nature's painting techniques.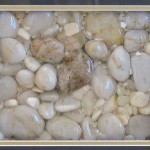 River Rocks come in so many beautiful colors, shades, sizes, and shapes.  River-beds are magical.  The sound of moving water and the buzzing of dragon flies is like music to my soul.  My River Rock series was designed to help you remember the real river-beds you have seen in nature.  Now you can hang one right on your wall.  I hope they give you a feeling of calm  and and remind you to be grateful for all the beauty of this world.
How My River Rock Series is created:
My River Rock series uses a variety of colored river rock.  I start with an idea of what the whole piece should look like.  Then I edge a canvas with sides so I can contain the resin water that will eventually will be poured over the piece and I let the edges dry.  Resin will find the tiniest holes to escape through, so I am very careful to make the sides "water tight."  Then I find the right rock to cover with pen drawings.  The canvas is layered with a  good, fast drying, clear glue and covered with a layer of sand.  After the glue dries  I layer a collage of river rock, smaller stones, pea sized stones, or shells and I add the special "Touch Stone" I have drawn.  The sand gets a sprinkling of glitter and the first layer of resin gets poured over all of it.   I usually wait two days until the resin sets up completely before pouring my second layer of resin.  Sometimes I need three layers.  It can take up to 8 days for the resin coatings to be poured and to set up completely depending on the weather.  When the resin is as high as I want it to be and fully set up I carefully take off the boundaries.  The sides of the canvas are then layered in three coats of acrylic texture medium.  Each layer has to dry before the next is added.  The final layer is then coated with matt medium for protection.  The back is covered with paper and the wire picture hanger is screwed into the frame, and it is strung with wire for hanging.  Each River Rock piece takes about 10 days to make.
I hope you enjoy them!